February 6, 2023
RE: Notice of Annuity Purchase
What is Changing
A. O. Smith Corporation terminated the Plan effective December31, 2021 and have purchased an annually contract with Massachusetts Mutual Life Insurance Company (MassMutual). Under the terms of that annuity contract, beginning March1, 2023, Mass Mutual is responsible for providing your benefits.
What is NOT Changing
The transition to MassMutual will not affect the value of your pension benefit.
If you are currently receiving a payment, your monthly benefits will continue uninterrupted. Your monthly payment will be in the same gross amount and form of payment as you are currently receiving under the Plan. Your banking information and tax withholding elections, if any will carry over as well.
Please Note: You will receive a Form 1099-R, in January 2024 from the A. O Smith Pension Trust to report benefits paid January 1 - February 28, 2023, and a Form 1099-R from MassMutual to report the benefits paid the remaining portion of the year.
If you have NOT commenced your pension payment, your vested benefit amount and usual forms of payment and reduction factors will still apply.
The A. O. Smith Corporation Plan Committee and its advisors went through an exhaustive process and followed the fiduciary standards and guidelines set forth under ERISA, the federal law that governs pension plans, to select MassMutual as the Insurance company that will be responsible for these Plan payments.
These guidelines require, among other things, that the Committee analyze the criteria applicable to identifying the "safest available annuity", while also factoring in such issues as customer service, insurance company financial ratings, experience, and insurance company reputation.
Questions?
Starting February 21, 2023, If you have questions about your Plan benefit, you should contact:
MassMutual at:
1-800-755-4331
Pension Risk Transfer - B245-PRT
MassMutual
1295 State Street
Springfield, MA 01111-0001
When calling, please specify contract number TFO 45256 for faster service.
Meanwhile, If you have questions about this notice, contact A. O. Smith Corporate Employee Benefits at 414-359-4000 or toll free at 1-800-631-7819.
Watch for a Welcome Letter from MassMutual. Everyone will receive a welcome letter later this month from MassMutual.
Later this year, you will also receive an Annuity Certificate that will describe the benefits to which we are entitled.
This notice was from a Letter sent to us from A. O. Smith Corporation. If I can help any of you with this, please let me know.
Donald Schrauth 414-871-2460
______________________________________________________
Regarding Life Insurance
11-2-2021
GUARDIAN
RE: Tower International - (Autokiniton) - Group Life Insurance #00481899
Basic Term Life Benefit is $12,500.00.
The Guardian Life Insurance Company of America
7 Hanover Square
New York, NY 1004
They can be reached during the hours of Monday through Friday (8:00 AM - 4:30 PM EST) at this number 1-800-525-4542
or log onto their website www.GuardianAnytime.com
If you would like to update or change your Beneficiary please contact them.
This P.O. Box is used for claims and beneficiary designation forms:
Guardian
P.O. Box 14334
Lexington, KY 40512
Or if you need help you can contact me, or Ann Dahlman - Sr. Benefit Analyst - Retirement Plans
at 616-802-1572
If you need assistance with any of this contact me at:
414-578-8285
414-871-2460
_________________________________________________
Notice regarding "ALL PLAN PARTICIPANTS IN THE A. O. SMITH RETIREMENT PLAN" mailing.
July 30, 2021, A. O. Smith sent out a notice to everyone in the plan.
Frequently asked questions about the mailing:
If you are currently receiving a monthly payment from the Plan - You will continue to receive your pension from the Plan until sometime in 2022. You will be notified when the Plan purchases a group annuity contract from an insurance company for your benefit. After that purchase, your payments will continue to be paid in the same amount and in the same form as you chose when you started your payment but the payments will come from the insurance company instead of directly from the Plan. You will not have an opportunity to take a lump sum payment or change your benefit in any way.
If you have not started your benefit, whether or not you are still employed, if you have not started to receive your Plan benefit by the time of the special plan termination election period that is expected to occur in the second half of 2022, you will have an opportunity to start your benefit in any of the payment options available under the Plan or a one-time choice to take a lump sum distribution of your entire Plan benefit. While you will be able to take a lump sum distribution in cash, subject to taxation and potential early distribution penalties, you will also have the ability to roll over any lump sum payment to an Individual Retirement Account (IRA) or a qualified retirement plan, including the A. O. Smith Retirement Security Plan if you are an employee of A. O. Smith at the time of the distribution. However, if the lump sum value of your benefit is $5,000 or less, your benefit will be paid only as a lump sum payment.
As we get more information about this, we will be sharing.
These are the statements that were included in the original letter to all of us from A. O. Smith Retirement Plan.
Stay posted and alerted if you receive a proposal to liquidate your benefit. Each decision will be personal choice.
I will be trying to get answers to any questions anyone may have and help them if needed.
Donald Schrauth.
December 20, 2019
New Boston, Mich.

Autokiniton US Holdings, Inc. (AGG) completed the acquisition of Tower International, Inc. (TOWR) (Tower), for $31 per share in cash.

AGG is a subsidiary of Autokiniton Global Group, LP, a portfolio company of KPS Capital Partners, LP (KPS), a leading global private equity firm with approximately $5.1 Billion of assets under management.

Tower is headquartered in Livonia, MI, Tower has approximately 5,700 employees and 2018 full-year revenue of $1.6 Billion. Tower has 14 manufacturing facilities strategically located throughout the United States, Mexico and Brazil supported by five engineering and sales locations throughout the World.

AGG is a leading North American supplier of metal-formed components and complex assemblies to the automotive industry. Headquartered in New Boston, Michigan.

KPS a family of investment funds with approximately $5.1 billion of assets under management as June 30, 2019. The KPS investment strategy and portfolio companies are described in detail at www.kpsfund.com.

As of now, we expect no changes, stay posted - I will let everyone know as soon as I hear of any changes - and hopefully there won't be any.

Donald Schrauth
September 27, 2018

A. O. Smith Cop, and Tower Automotive - Yearly Pension Plan Numbers have been distributed and everything seems to going along very nicely, plans are funded right around where we expect them to be, and we keep a close watch on them.

For some of you, that would have a qualifying event, we are still able to get people on the Badgercare Program, if you have any questions regarding what would constitute a "qualifying event" give me a call.

As we are getting older, the need for the number to "Our Life Insurance Carrier" seems to becoming more frequent.
Remember it is "The Guardian Life Insurance Company of America", and the person to contact over at Tower is Ms. Linda Fryc.
She can be reached at 616-802-1543, or you can call me and I will help you get in contact with her.

We still have many people who have not started their pension benefits yet!!!
As you are approaching this age and decision - remember you must make an application to both:
A. O. Smith Corp.
and Tower Automotive.

A. O. Smith Corporation
P. O. Box 245008
Milwaukee, WI 53224
Toll free number for A. O. Smith is 1-800-631-7819

Tower/John Hancock Investment Management
P. O. Box 796
Norwood, MA 02062
Toll free number for NYL is1-800-294-3575

If you have any questions or need help with any of this, please call me at the office or at home and I will try help or get the answers to help you. 414-871-2460 or 414-578-8285

Donald Schrauth
APRIL 2, 2018
Just a heads up that there is a SCAM going around involving the new Medicare Cards coming out in April. Pass it along. It might come in handy to know Medicare will never call you on the phone.
It is true that the new cards will be sent out from April 2018 to April 2019. Medicare has also warned on scams. They do not charge for cards or want your personal information over the phone.
This change is coming up. DO NOT give out information over the phone. Medicare Cards without Social Security Numbers Coming in.
Example of new Medicare cards: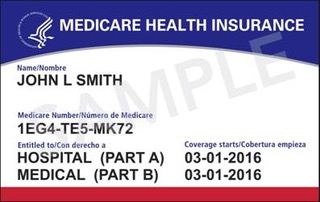 This is pretty important to get to people with Medicare, their families, and friends or adult kids who help parents with Medicare. Have just gotten word about the newest Medicare scam from an organization I educate for, Texas Senior Medicare Patrol, a division within the Better Business Bureau. Here's what you need to know to protect yourself, family and friends, throughout the US.
Starting 4/1/18 Medicare will start a year-long project to replace all current Medicare cards for beneficiaries to convert to alphanumeric ID numbers. Currently, the ID number is your social security number. This is starting to hit the media. Scammers are opportunistic. First of all the new Medicare card will come to you in the mail. You don't need to request it or do anything. It will show up.
WHAT'S THE SCAM?
Somebody from "MEDICARE " will call to tell you-you are getting a new Medicare card. But until it comes you will need a temporary card. Fee for the card is between $5-50 dollars. They want personal information, bank account or credit card so they can process your temporary card.
THINGS TO REMEMBER
Medicare will never call you unless you ask them to.
Medicare does all communications by mail unless you ask them to call.
Ditto for anybody saying they "work with Medicare to make sure you get everything you are entitled to" .
Scammer alert
HOW TO PROTECT YOURSELF FROM THIS ONE?
First of all, spread the word. Feel free to share these notes.
Use your answering machine to screen calls or just don't even answer a number you don't recognize.

If it has happened to you or your friends or loved ones and personal info had been given out (happens considerably more often than you think so don't feel bad or stupid) immediately take action to protect yourself against identity theft.
JUNE 6, 2016
TAMU TRUST TERMINATION
Information on Benefits Contacts in Error on TAMU Letter

Participants in the TAMU Trust's early retiree medical benefits just received notice that the TAMU Trust is terminating, because there are no more funds to distribute.

The Tower Automotive Milwaukee Union Retiree Benefit Trust (TAMU) was established in 2006 with funds from the Milwaukee Unions settlement with Tower in bankruptcy proceedings.

TAMU provided retiree health insurance for eligible Tower retirees until 2010, when through legislation eligible retirees were able to participate in Badger Care. The State of Wisconsin did not provide a subsidy for Tower participants, but TAMU used the funds left to subsidize the cost from 2010 until May 2016.

Notices went out last week that the funds have now been exhausted and the TAMU Trust is terminating with partial reimbursement checks for May.

Unfortunately, no one from TAMU checked with the SmithSteelworkers Litigation Trust 19806, and as a result there were errors in the information in that letter on who to contact if there are questions about benefits other than health insurance.

Here is the right information:

The SmithSteelworkers Litigation Trust office continues to be open on Monday's and Thursdays. phone (414) 871-2460

Don Schrauth is available at number - you can leave a message or call him at his home number: (414) 578-8285

There is also information on the website for Pension questions and Life insurance questions as follows:
A. O. Smith Corporation
P. O box 245008
Milwaukee, WI 53224

Toll free number for A. O. Smith is 1-800-631-7819

Tower/ John Hancock Investment Management
P. O box 796
Norwood, MA 02062

Toll free number for Tower is 1-800-294-3575
If you should need assistance with any of this contact me and I will help you.

In the event of a death - life insurance questions - about beneficiaries or benefits contact: Linda Fryc @ 616-802-1543, she is at Tower Automotive in Grand Rapids. She can change your beneficiary's and tell you what your policy is worth, as many of the older members have differing amounts. That information is also available on the web site.

If you are in the Badger Care program and have questions contact your provider or contact me. If you have any questions at all, please give me a call and I will attempt to clear it up.

Donald Schrauth

-----------------------------------------------------------------------
NOVEMBER 18, 2015

NOTICE TO PLAN PARTICIPANTS in the Tower Automotive Milwaukee Union Retiree Benefits Plan:

Dear Participants:

As you know, the Tower Automotive Milwaukee Union Retiree Benefits Trust ("TAMU"), which funds the Tower Automotive Milwaukee Union Retiree Benefits Plan is funded only through the settlement of the Milwaukee Unions with Tower Automotive during its bankruptcy proceedings and income generated by that settlement. Because of its limited resources, TAMU no longer provides health benefits but has provided a subsidy to retirees participating in an otherwise unsubsidized Badger Care Plan available through the State of Wisconsin. The same subsidy is provided to individual Participants who reside out of state and as a result are not eligible to participate in the Badger Care program.

As we informed you in October of 2014, TAMU will not have funds to make the $100.00 individual/$200.00 family subsidy through all of the 2016 calendar year. From the information which the Trustees now have available, we have determined that the Trust will be able to provide the $100.00 individual/$200.00 family subsidy for the first four months of 2016, that is, through April 15, 2016 but not beyond April of 2016.

Retirees or their spouses who have not yet reached age 65 as of April of 2016 will be able to continue to participate in Badger Care until they reach age 65. However, your bill for the cost of participating in Badger Care will increase by the amount of the subsidy, $100.00 individual/$200.00 family, starting in May of 2016 when the subsidy is no longer available. TAMU may provide a partial reimbursement for the May 2016 premiums, if funds allow, but will not provide any further subsidies because the Trust's funds will be exhausted. TAMU will then terminate, most likely in May, 2016.

Any participants who purchase dental insurance through Benistar Admin Services, Inc. must direct questions about that insurance to Benistar at 1-800-236-4782 not to TAMU.

If there are any questions, you may reach us at the following address through May 15, 2016.

The Trustee for the Tower Automotive
Milwaukee Union Retiree Health Benefits Trust
P.O. Box 170564
Milwaukee, WI 53217
Phone Number: 262-825-2716
FAX: 262-618-4353
--------------------------------------------------

TAMU SUBSIDY ENDS IN APRIL
Many DALU 19806 retirees have asked why their Badger Care premiums are increasing in May of 2016. The reason is that the Tower Automotive Milwaukee Union Retiree Benefit Trust (TAMU) after all these years is running out of funds.

Since 2010, through Wisconsin legislation, TAMU participants have been able to obtain coverage through Badger Care, but without a subsidy. The funds which TAMU still had were used to provide a $100.00 for single coverage/$200.00 for family coverage subsidy which was paid directly to the State of Wisconsin and which reduced the premiums the State of Wisconsin charged TAMU participants by those amounts.

The TAMU Trustees have announced that TAMU's funds can provide the $100.00 single/$200.00 family subsidy through April, 2016, but there will not be enough funds to provide the full $100.00 single/$200.00 family subsidy after April. This information was provided to all current Participants with their annual financial report on TAMU.

TAMU also informed State of Wisconsin that the $100.00/$200.00 subsidy would not be available in months after April so that it could send out accurate billing. Therefore the State billed for the full premiums for May 2016 and later; those premiums are $100.00 more per month for single coverage and $200.00 more for family coverage that the reduced premiums Tower retirees previously were charged. This is not the result of an increase in premium costs. It is the result of the TAMU Trust running out of funds and not being able to subsidize your premium expenses after April, 2016.

It is impossible to determine exactly how much will be left after April subsidies are paid because some Tower retirees leave and others are added to Badger Care. TAMU has asked the State to inform it of the premiums Tower retirees pay in May and will use that information to provide a partial reimbursement for the month of May to the extent funds are available. TAMU has announced that at that time, it will have no further funds and will dissolve.

SMITHSTEELWORKERS DALU 19806 LITIGATION TRUSTEES
--------------------------------------------------
John Hancock Retirement Plan Services is now John Hancock Retirement Plan Services!
Recently, John Hancock Retirement Plan Services, the organization that provides record keeping and administration services to your retirement plan, merged into John Hancock Retirement Plan Services. This merger allows us to better serve your retirement saving and investing needs and to help you reach your retirement income goals.
While our name, logo, website address, and some colors and designs have changed, your Plan's features, investment options, and your account have not changed as a result of this merger.
Here's an overview of what has changed and what has not:
New

Stays the same

Online access

Website address – mylife.jhrps.com – update your bookmark today!


User ID and PIN/Password; Features and capabilities

Phone

You will be welcomed to John Hancock Retirement Plan Services

Telephone number:
800.294.3575 (English);
Representatives
8AM-10PM ET

888.440.0022 (Spanish);
Representatives
10AM-8PM ET

Mobile

Search your app store for MyLifeNow

Ability to view, review, update, and make changes to your account

Print and electronic

John Hancock name
and logo


Design, colors, content

1. If you forget to do this now, it's ok. The old website address will redirect until the end of the year.
2. The mobile app supports 401(k) and 403(b) plans only.
3. Over time, you will see new colors and designs too.
Additionally, the teams that service your Plan, and the current recordkeeping system for account information and statements, remain the same.

With a strong commitment that puts emphasis on individual wellness and retirement readiness, we continue to focus on helping you enjoy a financially secure future.

Thank you for your patience and understanding as these changes and future enhancements are incorporated. We look forward to serving you now and into the future.
--------------------------------------------------
Take action!
Update your bookmark today, or contact us if you have any questions about this merger, or any of these changes.

ONLINE
mylife.jhrps.com

ONE-ON-ONE SUPPORT
800.294.3575

Representatives are available between 8 a.m. and 10 p.m. Eastern time on New York Stock Exchange business days. For your protection, all calls to a representative are recorded.
--------------------------------------------------------
Auto Discount for Retirees
Tower/A O Smith employees-retirees are entitled to discounts as follows:

DCX - Company Code - S35104 - web address - www.chrysleraffiliates.com phone number - 888-444-4321 - Employees, retirees, surviving spouses are eligible to purchase/lease up to 2 vehicles per plan year.

Ford X-Plan - Company Code - T510H - web address - www.fordpartner.com phone number - 1-877-975-2600 - Employees (full/part time and contractors), spouses, and retirees and spouses can purchase/lease up to 2 vehicles per plan year. (Mazda vehicles are now ineligible)
--------------------------------------------------------
2014 - A. O. SMITH RETIREMENT PLAN AND BUYOUT MAILING

We have learned from former A. O. Smith employees who have not yet applied for pension that they have received an offer to receive a lump-sum or monthly payments starting immediately, in place of their pension benefit.

The Smith Steelworkers DALU 19806 Litigation Trust CANNOT give you financial advice. The Trustees, however, urge everyone to read the information packet CAREFULLY and to request additional information, which is not included in the packet.

The packet provides, "if you need additional information, call the A. O. Smith Lump-Sum Window Service Center toll-free at 1-888-288-2391. At a minimum, we urge you to request the following information:

1. When would I be eligible for a pension under the terms of the pension plan, if I did not elect to receive a one-time lump-sum payment or to begin monthly annuity payments immediately?

2. What would my monthly pension payment be if I elect not to receive immediate payment, but apply for pension when I am first eligible under the pension plan?

3. What would my monthly pension payment be if I did not elect immediate payment and instead applied for my pension at age 62?

You should consider this information of any election in making your choice and compare these options to what you are offered. For example: if you are 56 and the early retirement benefit under the pension plan starts at age 57, you should consider the benefit you would get by waiting a year and whether it is a better option for you. If you will get the full pension benefit at age 62, three years before age 65, you may find that pension benefit is a better option for you.

On page 3 of the Notice of Rights, in the information packet - A. O. Smith states:

"By not deferring the start of a benefit, plan participants who are not yet eligible for early retirement may forgo the ability to receive an annuity in the future that includes and 'Early Retirement Subsidy.' Neither the immediate annuity benefit payable before a participant reaches early retirement age nor the lump-sum benefit payable immediately include the Early Retirement Subsidy."

Additionally, you should consider the TAX CONSEQUENCES, including an additional 10% tax, if you take payment at less than 59 1/2 years old, which is outlined in the packet.

Everyone's situation is different. We urge you to get all the information you need to make the best decision for yourself.


SMITH STEELWORKERS DALU 19806 LITIGATION TRUST TRUSTEES
--------------------------------------------------------
2014 UPDATED CONTACT INFORMATION

A. O. Smith Pension Portion:
A. O. Smith pension account changes, including address changes, tax changes, direct deposit changes - NEED TO BE MADE IN WRITING.

Send to:
AO Smith Corporation
PO box 245008
Milwaukee, WI 53224
The toll free number for AO Smith is: 1-800-631-7819

Tower Pension portion:
The same applies: for address changes, direct deposit, tax changes etc.
They will supply you a form on which to do this.

Send to:
John Hancock Investment Management
P O box 796
Norwood, MA 02062-0796
The John Hancock participant service center is 1-800-294-3575
(John Hancock)
The recording will ask you to enter your Social Security Number and your PIN. If you do not have a PIN press "0" to be transferred to a representative.
John Hancock website www.mylife.NewYorkLife.com

If you need assistance with any of this let me know. I will be able to help you.

Donald Schrauth
414-871-2460, 414-578-8285

People wanting to apply for their pensions:

You must contact both: AO Smith and Tower via John Hancock

AO Smith Corporation Employee Benefits
P. O. Box 245006
Milwaukee, WI 53224-9506
Toll free number: 800-631-7819 (AO Smith Corp)

John Hancock Participant Service Center 800-294-3575 8 am to 10 pm ET Monday through Friday
mylife.NewYorkLife.com
-----------------------------------------------
"TOWER PEOPLE"

The Benchmark Plan is ending - effective 12-31-2013.

The "tower folks", will be enrolled in the Standard Plan automatically - effective - 1-1-2014.

The Standard Plan actually covers more than the Benchmark Plan did and the co-payments for services are much less.

There will be a change in the premiums for 2014 - but the cost is unknown at this point, and information is not available until November.

When that information becomes available - every effort will be made to get it to everyone.

Jodie states "We will send notification out to the "tower folks", regarding the change in plans and a new listing of the covered benefits, along with the premium amounts sometime in November, after the rates are final.

As soon as information is available we will make every effort to get out to everyone.

Any questions you can call me.

Donald Schrauth
-----------------------------------------------
Effective January 1, 2013, Tower International will have Guardian as their new life insurance carrier.

You should have received a letter telling you how much your benefit is, along with a new beneficiary designation form to fill out and return to Guardian. The form is incorrect, so please don't fill it out. If you have a current form on file with Tower and/or Aetna, there is no need to fill out a new one. You may contact Linda Fryc at Tower with any questions or if you would like a correct form sent to you. You may also contact Guardian at 1-800-525-4542. When contacting Guardian, remember to mention that you are a retiree of Tower, not AO Smith (or they will get confused).

If you have any questions give me a call at 414-871-2460 or 414-578-8285.
Donald Schrauth
-----------------------------------------------
Attention Badger Care Bench Mark participants in the Milwaukee, Racine, Kenosha and Waukesha areas.

Effective 10-31-2012 - United Health Care will be dropping those enrolled in their United Health Care services.

Effective 11-1-2012 they will be able to get services from any one that will accept their ID cards - Per Jodie Mender.

It is just a different payor for the services.

If anyone has any questions - they may call me.

People that would like to select a different HMO, may call the enrollment broker at: 800-291-2002.
-----------------------------------------------
People reaching 57 that would like to see how much of a pension benefit they have coming or would like to start that benefit, this is the process:
You must contact both: A. O. Smith and Tower at John Hancock
A. O. Smith Corporation Employee Benefits


P. O. Box 245006
Milwaukee, WI 53224-9506
Toll free phone number: 800-631-7819 (A.O.Smth Corp)

John Hancock Investment Management


P. O. 796
Norwood, MA 02062-0796
Toll free phone number: 800-294-3575(John Hancock)
www.bcomplete.com
If you need any help with any of this please give me a call either at
414-871-2460 or 414-578-8285.

Donald Schrauth